Thermowells & Thermopockets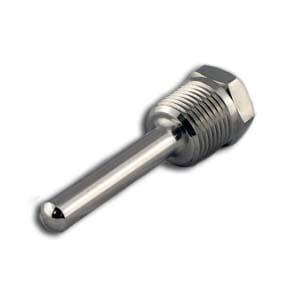 Thermowells and Thermopockets are often used to both protect RTD (Pt100) and thermocouple sensors and to allow a sensor to be removable from a process. The benefits and convenience in applications where the removal of the sensor could prove complicated such as on a vessel, pipe or tank.
These assemblies range in connections, sizes and materials as they are used in a wider range of applications. Most pockets will have a thread connection for fitting to the process and a fitting to hold the sensor in place and are typically for use with our range of 6mm diameter RTD (Pt100) and thermocouple sensors.
Both styles are manufactured in stainless steel and for thermopockets also in PTFE. Various immersion lengths and process threads are available in either parallel or tapered. (immersion depth is stated as the length from the tip to below the process thread or underside of flange face).
Thermowells are machined from stainless steel solid bar stock and are solid drilled for where a high pressure requirement maybe required and are available in threaded and flanged options. A female thread is machined into the rear for various means of securing the sensor.
Thermopockets are a lower cost option and are of a prefabricated and welded construction with a process thread which has either a female thread into the rear or a process thread with a integral compression fitting.
The sensor can be held into either style using a compression fitting or bayonet fittings and adaptors. It must be noted that the sensor has to longer than the "immersion depth" to ensure good thermal contact inside.
As you will appreciate, we don't list the full range of Thermowells or Thermopockets but we can supply to any variation and specification you may require.
Buying in bulk, or need some advice on thermowells & thermopockets?
Our technical sales team will be happy to recommend the perfect solution for your needs, or provide a quote for a custom build.
Call +44 (0)1243 558270, click on the webchat box below, or fill out our contact form.