Bespoke Temperature Probe Manufacturing Service
Tempcon Instrumentation have been manufacturing temperature sensors and probes for over 30 years;
we're a trusted supplier across many different sectors including:
Why Choose Us?
Blue chip pharmaceuticals, that require high accuracy sensors built to GMP
Research institutions and Universities that need research grade equipment from a reputable supplier
Leading UK supermarkets, that rely on our equipment and sensors to comply with food hygiene law
OEMs wishing to reduce costs and increase value to their end-users by having Tempcon engineer costs out of their current temperature probe components
We can manufacture almost any temperature sensor or probe you can conceive; by discussing your requirements with our experienced and down-to-earth specialists you can benefit from the same high-quality temperature probes, built to your exact requirements – whatever the quantity.

 
Engage Us as Early as Possible in Your Project and Reap the Benefits
Lower cost – the longer lead time we have to source raw materials; the lower price we can achieve for you.

Best solution – talking with us at the design phase enables us more time to understand your needs and come up with the best, most cost-effective solution.

Production lead times – many factors affect timing; supply of raw materials is one of them, especially if you need large quantities (some projects require kilometres of thermocouple wire).

All sensors and probes conform to IEC codes, and our Quality Management System is accredited to BS EN 9001:2015.
Whether you're looking to lower supply costs or improve quality and reduce MTBF on components, speak with one of our specialists today.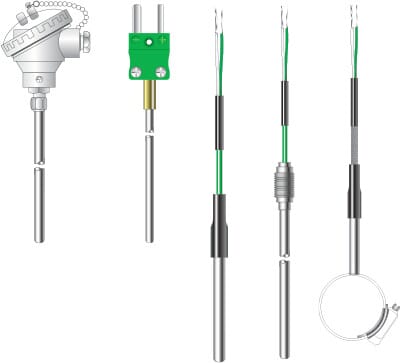 The Specifics
We are often asked to build replacement temperature sensors and thermocouple probes for equipment that is difficult to trace or where the current probe needs to have cost engineered out of the build whilst remaining compatible with an OEM product. So whether you need: Thermocouple sensors, Platinum Resistance (RTD) or thermistor temperature sensors; you can be confident of quality assured products.

Probes and temperature sensors are available in all the normal K type thermocouple wire, J type thermocouple and T,N,S,R thermocouple materials, RTD, PRT, PT100, PT500 & PT1000 platinum resistance, or thermistor bead. Industrial probes are available with cable, threaded boss, or weatherproof heads. Hand-held probes come with a choice of handle and retractile or normal cable. A range of plugs, sockets, and 2-wire transmitters complement our range of temperature sensors.